Inspired by Oliver Fluck's "Beach At Night"
Photo courtesy of Oliver Fluck and sincere gratitude for the collaboration which resulted in eight very unique fiction pieces. Grateful for the synchronicity which brought us together so these stories could be told with the help of a lens.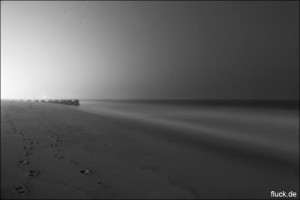 Excerpt:
"Night returns with armful of stars…
Already a thin light is aiming through the night for any heart."
~ Kobus Moolman
There is a man from South Africa that roams the shorelines around the globe. No one really knows where to find him but those that do have often run into him when he is concealed in the deepness of a dark night strolling around an empty ocean.
He is known as "Son of Abraham and is accredited with having caused a lot of misery in people's lives. When anyone meets him they are at a loss of words to explain their history which lead them to search for him. They are disappointed to learn that, it is indeed true, he has nothing much to say but "You are here for the love of your life." It matters not where you run into him that is all he says.  It is of no consequence how you phrase the question, that is all he offers. You are here for the love of your life.