Four
This is the final of the Da Vinci Dreams series (four was the intention from the beginning); Tuesday's Torrent stories will continue depending on time and "creative clutter" while I return to the work-in-progress manuscript. I want to thank Annika Ruohonen for this collaboration. Her photographs offer a sensitive and unique perspective and stand in a class all their own.


Da Vinci Dreams :: Quietus

"Of the shadow that moves with: there shall be seen shapes and figures of men and animals which shall pursue these men and animals wheresoever they flee; and the movements of the one shall be as those of the other, but it shall seem a thing to wonder at because  of the different dimensions which they assume." ~ from "Prophecies" by Leonardo Da Vinci, The Notebooks of Leonardo Da Vinci, George Braziller.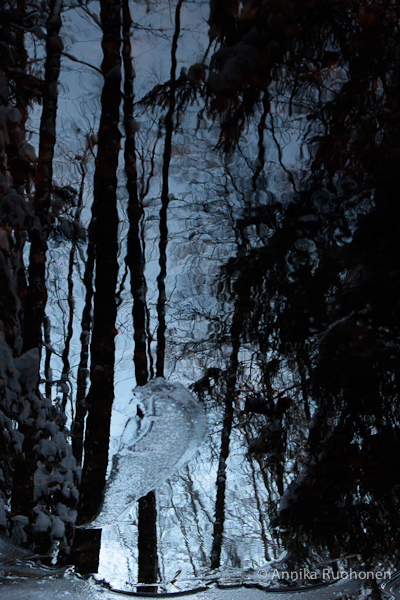 Photograph Courtesy of Annika Ruohonen
"Is he a God?"
"A God? Have you lost your damn mind entirely," Frank answered and then immediately regretted his choice of words.
"I probably have," replied Merrick.
"Come on, man. I didn't mean it like that. I just meant—"
"No, you are right. Only someone who has lost his bearings would even ask that, even as a joke given the circumstances," said Merrick.
Frank couldn't help thinking maybe insanity and death weren't so far apart after all: both made one reach out to some unknown entity, God by whatever name, regardless if one had ever prayed or believed beforehand. This thought was followed by the quick realization that he had inferred that Merrick's problems, his friend of thirty years, fell on some spectrum of a mental illness. Frank then realized he had referred to Merrick's experiences as problems and just wished he could stop thinking.
Frank recalled what his ex-wife had once said: it is the devil that leads one to God and Merrick and him both "attract evil, evil, evil, so I pray it is only so as to lead you both one day to meet God while still living." The divorce was finalized twenty years ago and Frank was disappointed to find himself thinking of that particular exchange, especially now.
Frank couldn't help thinking maybe his ex-wife was right. That Merrick's callous womanizing (not all resulting in physical affairs) over the last fifteen years had finally lead to this identity crisis were his dreams haunted him, he felt as if he was not even alive, that he was dead and just an observer. That maybe his ex-wife, who Frank had never considered religious before he married her, was right that what you do to others "starts eating your insides."
Merrick wasn't a bad man and in fact had done many kind things for many, Frank considered; it was just that ever since he could recall, Merrick had had a way with women—some due to his appearance which was handsome by most standards, but that mattered not since time never offer favors to anyone—and he didn't hesitate to assert this side of him. The side to which Frank could never relate.  The side that always divided them as Frank-but-Merrick ever since he had known him. Merrick had married once and the duration of the marriage—six months—ensured him never to take that risk again. "It's not for me," Merrick had said.
The two friends didn't see each other as often when Frank was married for ten years. "It's different when you care about someone, Merrick," Frank used to say.
Apparently, didn't care enough, Frank thought and again wished to freeze his thoughts.
The two men cut through the frozen wind trying to reach Vishuddha Creek. The trek was frozen over with ice on top of old snow and although both men were dressed in proper attire to combat the gusts of wind, the cold was still abrasive against the uncovered parts of their face.
"He is not a god. Some retired neurobiologist," Frank said without adding "also considered quite deranged according to many valid sources."
Merrick ignored that information and asked, "Why did we have to leave at four in the morning in this forsaken cold?"
"Because G. R. S. can only be found or decides to come out and about near the Creek when it turns blue," Frank said and then continued, "So by the time it would take us to get there it would almost be evening and around that time."
"Why do you call him G.R.S.?" snapped Merrick.
"That's his name. That's what he goes by."
"Those are his initials."
"I don't know anyone who calls him otherwise. I don't even know what the 'R' stands for."
"Let's call him Gary. Or Garreth. Rings like Merrick," Merrick said.
"That doesn't sound like Merrick and he has two first names anyway. How am I going to call him Gary if there is another name he prefers?"
Merrick almost said aloud "Great. Going to a nut case like myself" but didn't given his last exchange with Frank before they boarded the plane: "I went through a lot to find out where this man is, Merrick, and the only thing I was told was you have to believe—whatever he does or has to say—or doesn't work."
Merrick had argued, "But I don't believe in God, Frank! What do you want me to believe?! That some neurobiologist who once worked with the likes of Roger Wolcott Sperry's team who eventually went crazy is somehow to fix this–this–all of this?!"
At that instant Frank threw the boarding pass down on the floor and said, "You don't have to believe in God or something like God in order to believe, Merrick! Just believe you want to be fixed."
The two men paused to eat. As they had been advised there was nothing—no person selling anything, no cabin, no restaurant, no houses—between the small village where they were staying and Vishuddha Creek so it was best to pack their own food supply.
Merrick couldn't believe how exhausted he was and that made him angry: even walking against wind was a fight.
"Wonder if these trees are even half alive in this frozen weather?" Merrick said after taking a bite of his sandwich,  immediately disliking the taste. His options had been lamb curry wrapped in flat bread or potato curry wrapped in spicy flat bread. He had said whichever to the young girl—the guesthouse keeper's daughter—knowing both were going to taste awful when eaten cold in the cold.
"Of course they are. They wouldn't be standing," said Frank as he took out the canteen provided by the guesthouse owner for a drink of water.
"You think we are paying too much for that guesthouse? Not even really a guesthouse or lodge or inn you know. Just someone's house."
"What does it matter? Lucky someone took us in around these parts where they don't even speak to strangers, especially in our skin."
"Just saying. They knew we needed a place to stay and there was no where else to stay, like those touristy towns nearby, given where we were headed in the morning."
Frank and Merrick finished the rest of their lunch in silence and heard the snap and fizzing off branches crackling despite the ice and snow over them. Frank couldn't help thinking if trees made sounds even when frozen so as to affirm being alive.
They continued to walk which required even more attention since their hiking boots were a weak match for the slippery iced path and the sun was hidden behind the trees.
"You don't have Cotard's syndrome—the delusion where one has no sense of being alive in the moment, the disorder where you think you are dead although you are very much alive." That was Merrick's first diagnosis. That was a year ago.
"You don't have temporal lobe epilepsy, which can give sufferers an experience called transient epileptic amnesia, which is a fancy way of saying the world around them stays just as real and vivid – in fact, even more vivid sometimes – but they have no sense of who they are. You have a very fine sense of who you are, Merrick." That was Merrick's second attempt at understanding his mental state.
"You don't have any neural pathology to experience the separation of sense of self and conscious experience, Merrick. I have been in this field for a long time. Lots of people who use—" Merrick didn't even allow that particular doctor to finish the evaluation and had stormed out screaming: "I don't use any drugs" followed by string of expletives.
It was six months later when Frank gave Merrick an article about  an experiment with "split-brain" patients of a neurobiologist named Roger Sperry.
As a last resort in an experimental procedure to treat severe epilepsy, Sperry's team severed the connection (the corpus callosum) between the two hemispheres of the brain. The results of this operation, called a commissurotomy, was that the epilepsy was indeed much reduced but the experiments also revealed a remarkable, unforeseen side effect.

Patients were asked to focus on a dot in the centre of a screen. Words and images were then flashed up for a few seconds on either the right or left side of the screen. When these appeared on the right side of the screen, the patients were easily able to say what they were. But when they appeared on the left of the screen, they claimed to have seen nothing. However, if asked to draw an object with their left hand, they would draw what they had just seen, all the time denying they had seen any such thing. They could also manipulate or use the object normally with their left hands.

The way in which vision works is that information from the right visual field is processed by the left brain hemisphere, while information from the left visual field is processed by the right hemisphere. But it is the left hemisphere that (in most people) controls speech. Because normally the corpus callosum allows the two hemispheres to communicate, this presents no practical difficulty for most people. But after a commissurotomy, this information exchange cannot occur. That means that if you control carefully which side of the brain receives information from the environment, you can effectively make one hemisphere aware of something that the other is not. What is astonishing about this is that for this to be possible, there would have to be two centers of awareness in the individual concerned. Commissurotomy therefore seems to show that selves can be divided – at least temporarily – or that they needn't have just one centre of consciousness after all.

Intriguingly, however, in normal life, such patients experience the world in the normal, unified way. One of Roger Sperry's closest students and team members offered the following explanation: "we don't miss what we no longer have access to." Consciousness of self emerges from a network of thousands or millions of conscious moments. This means that when we lose bits, the way a split-brain patient does, we don't sense anything as lost at all.

In other words, what the numerous pathologies of self-experience expose is that even in normal cases, there is no unified "I" behind experience. Rather, to use another musical metaphor, the mind is like a jazz orchestra that usually plays with sufficient harmony to disguise the fact that it lacks a single player, a score, or even a conductor. A few bum notes or absent musicians, however, and the illusion is shattered.
Merrick felt the article, which had been opened, read and folded many times over, in the inside pocket of his jacket. It had taken Frank and him six months to plan this trip to see a less renowned member of the Sperry team who had worked on the split-brain experiment. No one still alive and working in the field at any of the Universities was interested in entertaining Merrick's insomnia, sense of loss of self, and dreams that led into visions through the waking hours.
Frank looked at Merrick quickly.
"What are you looking at?"
"Nothing. We are almost there. Just have to find the bluest area in order find him."
"There is no telling if he will be there. We may have to go back and do this all over again."
"I know this," Merrick replied.
The aquamarine reflection of the water in the creek was a breathtaking sight that neither was expecting.
"Wow. This is some creek. There is a current despite how frozen it is," Frank said.
"Now. Where do we find this G.R.S.?"
"No idea."
"We wait?"
Frank and Merrick both turned around upon hearing, "It would be quite cruel to make two men wait in this cold after that long hike, no?"
There he was. G.R.S. As ordinary looking as any man.
"You were expecting us?" Frank asked.
"No. But when you see people around the creek this time of the year they are usually lost or foreigners and I know that hike," G.R.S. replied.
"We—I—need to see you about something," Merrick said quickly.
"There is a town up that way which offers housing for the night–" G.R.S. began.
"We are not tourists. I came to see you," Merrick said, cutting G.R.S. short.
"Me? Most people don't even know who I am or where I am."
"It took a lot—six months—of research for the possibilities of where you might be."
The old man sat down to fill water in a large container from the running current as the sun highlighted the frozen parts along with the flowing current an electric, indigo shade of blue.
Frank gestured Merrick to go over to him and Merrick went closer to G.S.W. but remained standing.
Frank listened to the conversation, the details of Merrick's experiences now familiar as if his own .
"There is nothing wrong with you. Someone just gave you a virus. Dreams can be like a virus. Like a cold."
"What?"
"Dreams like you describe, some dreams are like viruses. You just catch them. Like a cold. Some colds continue to stay inside you to mutate into another cold. No two colds are alike though."
"But how does one get this virus?"
"Being in a familiar place even if you don't recall having been there in any memory. A rainy night that reminds you of another place.  A small glimpse that triggers a familiar memory. No telling really. How do you catch a cold? It just happens. Nothing to do with your hair being too wet. Someone just gives it to you. And the virus finds another body."
Merrick couldn't believe this.
"It's a way of shedding one's shadow."
"Whose shadow? These dreams are someone's shadow?
"Some of them. It is like passing on the baton of burdens."
"Don't I have to know someone or something to be experiencing these?" Merrick said, quite worried. None of this made any sense to him, yet it was the only explanation that had made any sense in a year.
"Well, yes, but there is no way to find out who or what," G.R.S. replied.  "Some dreams like some stories suck us deeper than we can stand in," he added and then chuckled.
"What's so amusing?"
"That you actually thought after reading that article and about me that I could help you or fix you," G.R.S. replied.
At this point Frank interrupted the conversation, "I know of a man who said he found you and you helped him."
"He lied," G.R.S. retorted.
"How do I get rid of this?" Merrick asked, agitated.
"It will pass."
"No. It won't. It hasn't. This has been going on for a year."
"Then you figure it out by living them out."
"This sense of self and duality I feel has left me feeling insane. The only friend I have left is Frank. No one understands. No one! I don't even know if I exist! I have no idea what is real anymore. I have lead a meaningful life—worked hard, cared for others, sure I may not be the best in relationships but I have been better than I used to be! The more my dreams become real the less I understand what is happening! You helped someone else! You help me!" Merrick finally stopped.
It was completely dark now. G.R.S. lit a lantern and appeared much more infirm now than he had before.
G.R.S. finally said, "You know a cube is a three dimensional object that casts a shadow which appears as two dimensional. Poor cube, a three dimensional object that has not been represented in its projection properly! But that is the cost of losing a dimension.  Just like that, although we can't see a four dimensional object we can see its shadow as a three dimensional object and therefore know it exists. Dreams are like that."
"What the hell do these dreams want?"
"Death. Death of something that causes killing."
It would be a few years before Merrick would understand there were many different kinds of killings but by then he had, without knowing, offered the baton of dreams to another.
Research provided by 'The Ego Trick' by Julian Baggini.