I don't claim I can write poetry. It is not my 'medium' of expression or telling a story. Perhaps this goes back to the years when I 'stopped' writing. I felt poetry—my version (given what I wrote felt incomplete), not what I considered poetry—was my way out of writing seriously. Later I decided it wasn't even poetry but just lists of fragments showing my perception of a particular instance. Words were my play-doh; I simply recorded the telling details; I affectionately labeled these notebooks my 'forensic lab.'
If there are as many types of poetry as there are those who claim to be poets, then there are even more definitions of what constitutes as poetry. I am fond of a few definitions but am most drawn to Wordsworth's take on poetry: "the spontaneous overflow of powerful feelings."
What I share below began by putting together a few sentences that I had scribbled in passing, just a net to crystallize some thoughts. Given I don't write "poetry" but fiction and non-fiction I thought I would just keep them filed under 'private' creative clutter to be used later. This was prior to seeing the impressive and evocative painting below by Verena Baumann. After I saw her painting titled "another dream," I had an insight about bringing my scribbled sentences, also categorized under the heading "another dream," to a close.
Maybe this will find its way in some fiction short story or manuscript but until then, here is a story without form, very much like dreams I suppose.
Thank you Verena for allowing me to share your work here in connection with my own work. Still intrigued by the series of events zigzagging till it all connected.
You can "follow" Verena and her art and photography on Twitter.
Title of this piece inspired by an exchange with my father, the oldest tree I know.
Me: she is 1000 years old.
My father: one can't be that old unless one is a tree.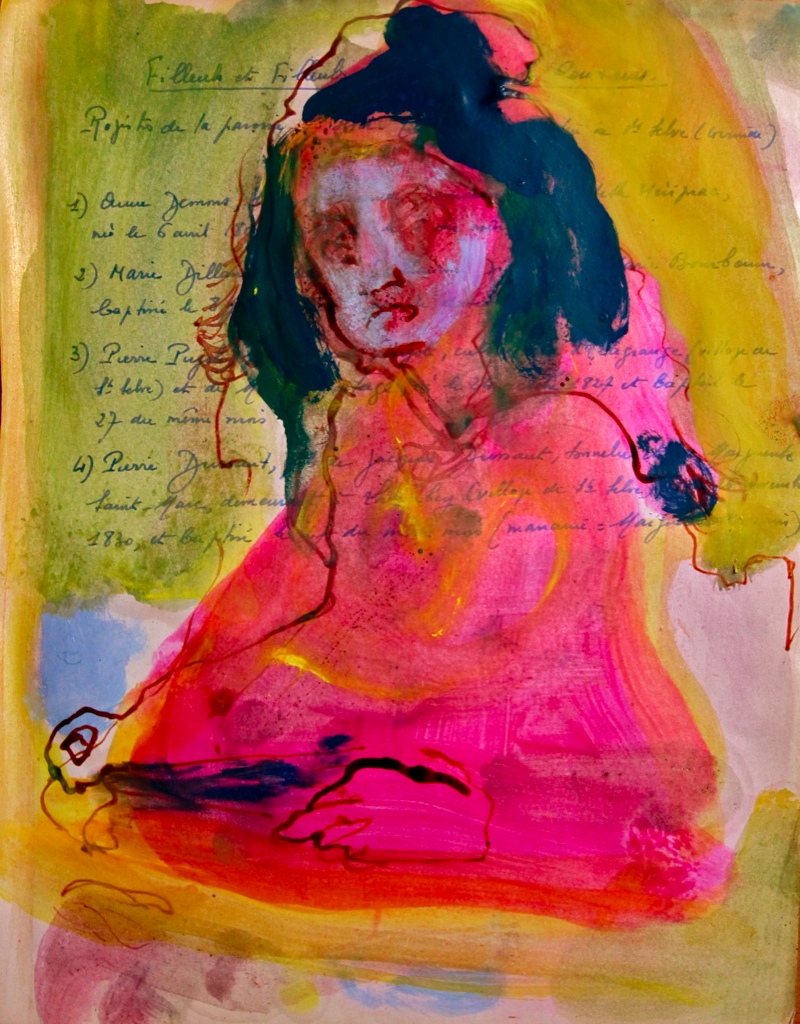 A 1000 Year Old Fakir's Dream
I want to draw a timeline (in sand of course) to show you how far back we go.
I was a young girl from Rub'al Khali desert who had cracked eternity like a walnut.
You were a star afraid of wishes; I wished anyway.
You look at me like a photo you wish you had taken.
How could you have? I was an even younger child than you then.
I do wish I had a photo of my eyes when I first saved you from yourself: awe.



You sketched time to bring yourself back to me. But you had never left.
Yet we wouldn't mind if one of us would leave now (vaguely of course),
Knowing neither could.
Why do we have to trace how many times we have been here before?



I want to bend time zones (gently of course) so your sleepless nights are no longer my days.
My dreams are a fine fingernail sliver of memories which only you can recall (because we were both there of course).
To the rest of the world we are just a universal longing.
Is it easier to live with a dream than a memory?



We are demi-gods when we make love: geranium leaf and bergamot rind. Not just in my dreams.
But we are here because we can't recall (not all of course).
Fear breathes maestro dust on discernment.
How can we doubt the possibility of something happening that which we are already experiencing now?



Psychics and priests tell me the same:
This is our last incarnation if we are ready.
I wish we didn't have to keep going back to go forward.
The soul in our feet is tired of traversing this earth.
We are a fog whispering stories to trees; trees already know.
I am as tired as you love; let's go home.
§ 9 Responses to A 1000 Year Old Fakir's Dream"