Still Sundays.
April 20, 2014.
I found out about Gabriel Garcia Marquez's death from my mother after I returned from my mission to the Monastery of Christ in the Desert near Abiquiu, New Mexico this last week Thursday.
My mission was no ordinary mission; it entailed finding this particular lavender soap bar for my father.
A year ago my father received a handmade lavender soap as a gift. The lavender soap was from a gift shop, Monk's Corner, in Santa Fe, New Mexico which had since then closed due to the unfathomable rents in that city. He loved it so much that he wanted more. Not a problem, right? Everything "lavender" is so commercial now that one doesn't have to go to a special Ayurvedic store; any chain grocery store is likely to offer several lavender products, including soaps. We got him several varieties from Trader Joe's, Whole Foods, Sprouts, and a few other stores that are likely to carry natural products and none were good enough. We even tried tricking him—without success—by taking the packaging off of the soap and presenting it as the same soap he had received as a gift! His intuition is surreal so I don't know why we bothered. What surprised us the most is that he is not a very particular man yet he really wanted this soap. Perhaps that is not an accurate statement. He is one of the least materialistic people alive and doesn't ask for much but what he does want he wants and nothing else will do. A trait I am convinced was genetically passed to all of us. After 6 months of trying to find a substitute we were afraid to joke if he would protest by not showering if we didn't get that soap!  What next?
In December while I was in Santa Fe I contacted the monastery after finding them on the Internet only to learn that they don't always answer the phone because they are not there to appease tourists since they are real monks! I sent an email which was answered and the reply said they indeed had shut the shop but they still made soaps and I was more than welcome to come and buy or order online. I couldn't find a way to order the soaps online so I decided to go get them. Except I couldn't make the trip due to the weather conditions. The monastery is located at the bottom of the Chama Canyon wilderness in northwestern New Mexico, about 75 miles north of Santa Fe, and about 53 miles south of Chama. The problem? It was winter and the road conditions didn't allow driving on the thirteen miles of dirt road off US route 84 after passing the town Abiquiu.
Now that it is spring I was adamant to get the soap. Once in Santa Fe I called and was so relieved to have had one of the "Brothers" actually answer the phone. I told him about my father's "soap predicament" as we were now calling it and the story really amused him. He said he will make sure to share this with the monk who makes the soaps. I wanted to know how many they had given it was quite a trek and—I felt sort of embarrassed saying this—I didn't want to drive there for just one soap. He told me not to feel embarrassed and that he understood because it was not a quick drive. He said there were 30. I told him I was coming to get all of them. He said he might not be on duty to answer the phone but the gift shop is open till 5:00 p.m. and I was more than welcome.
And so we drove from Santa Fe towards Abiquiu, a town most associate with artists, writers, silent retreats etc.
The drive is truly breathtaking and I can understand why some might come here to find inspiration (which is ironic because essentially what one is doing is creating space to be quiet and therein lies inspiration: within!). The silence is divine and the mountains exhale colors and history. They stand as a reminder of how there was earth long before us and there is a cosmic cycle in which we just happen to play a part.
After passing Abiquiu, a town that didn't really interest my curiosity but for its beauty which I noted in passing, we nearly missed the dirt road which was to take us to the monastery. There was a small sign that said we had 13 miles to go and those 13 miles took one hour because of the nature of the road, all dirt and very windy. Who thought 13 miles could feel like 13 years! I was in great company so I didn't mind but one would be hard pressed to ignore how long those 13 miles feel.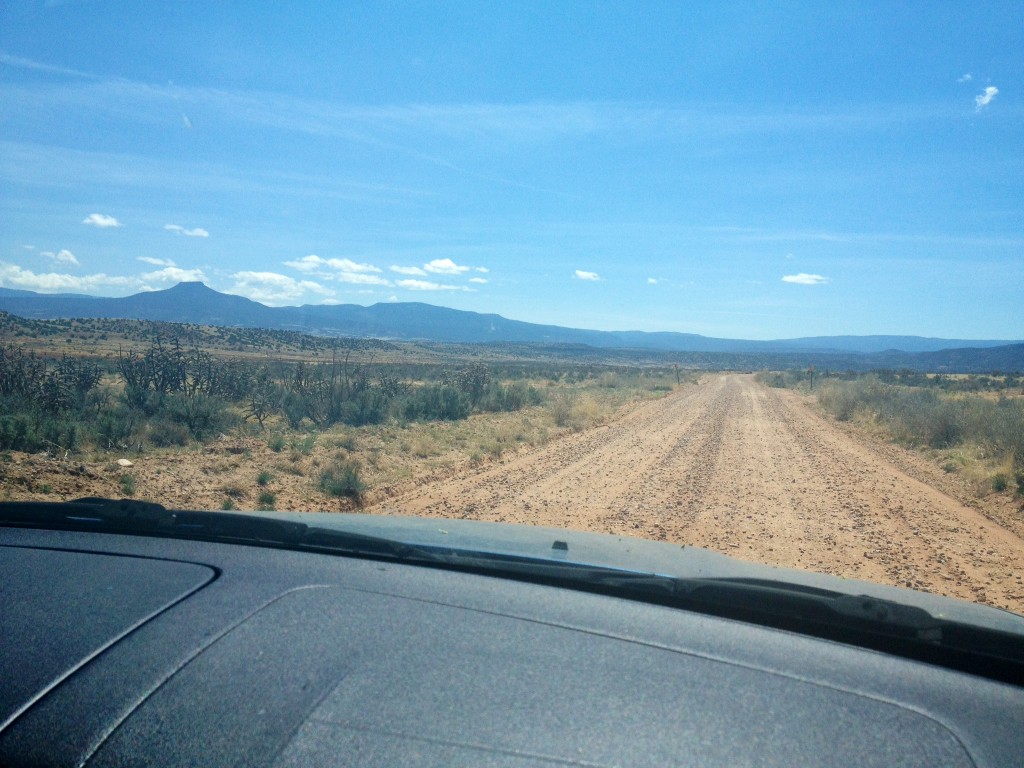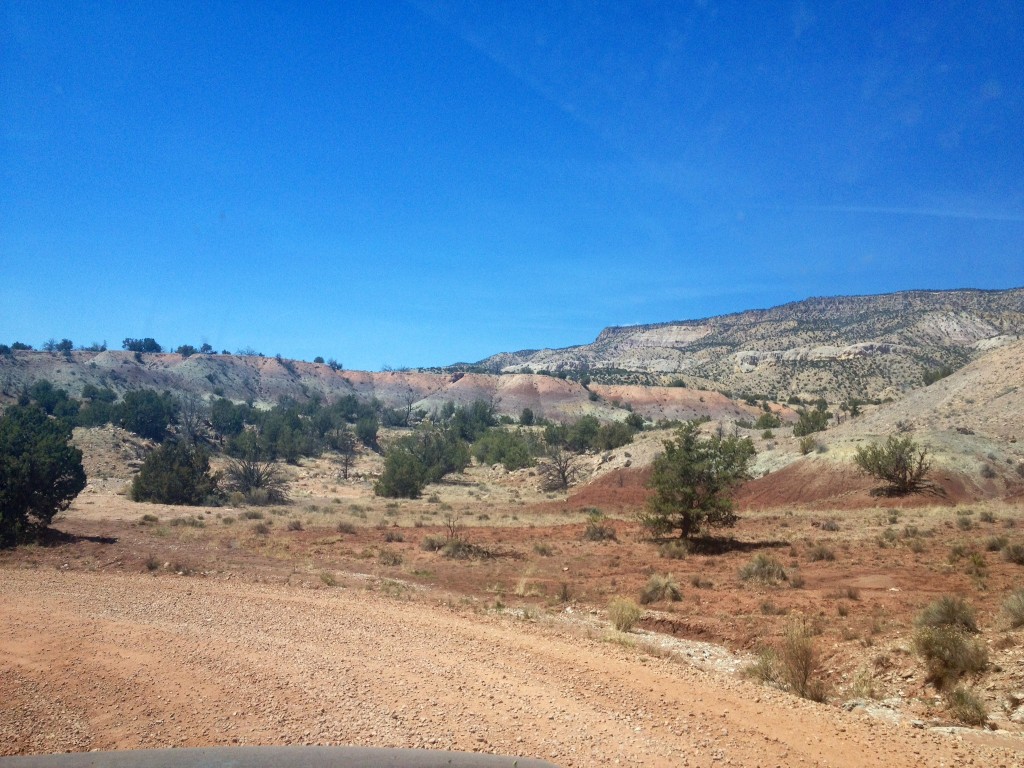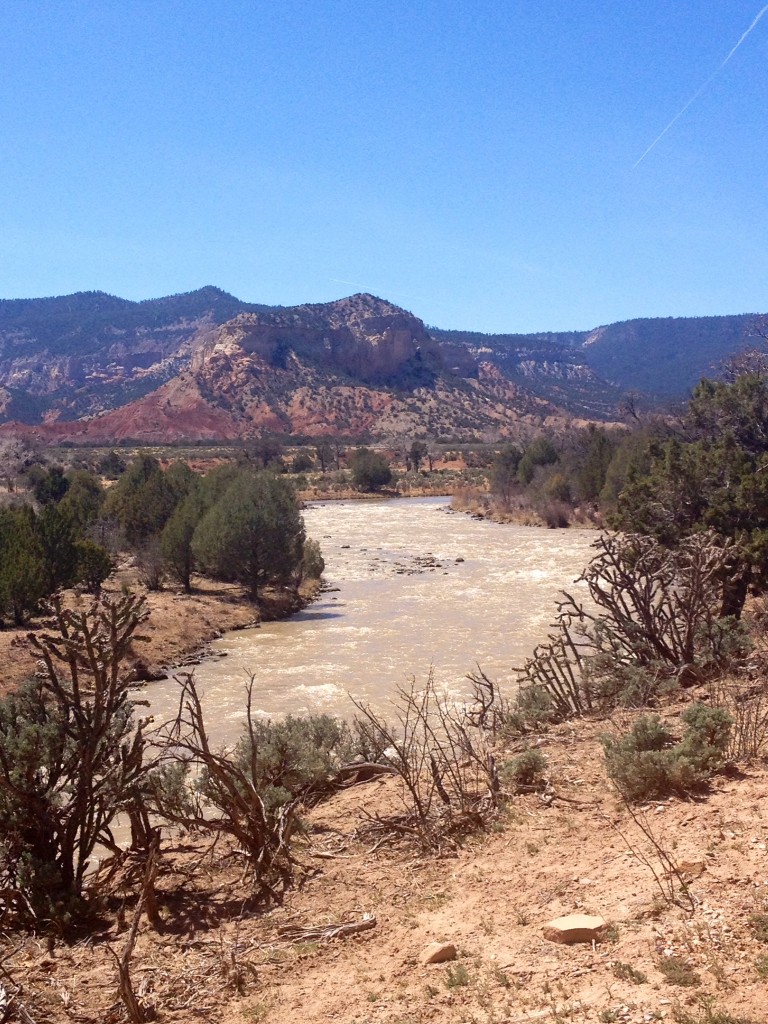 Once there it was worth it.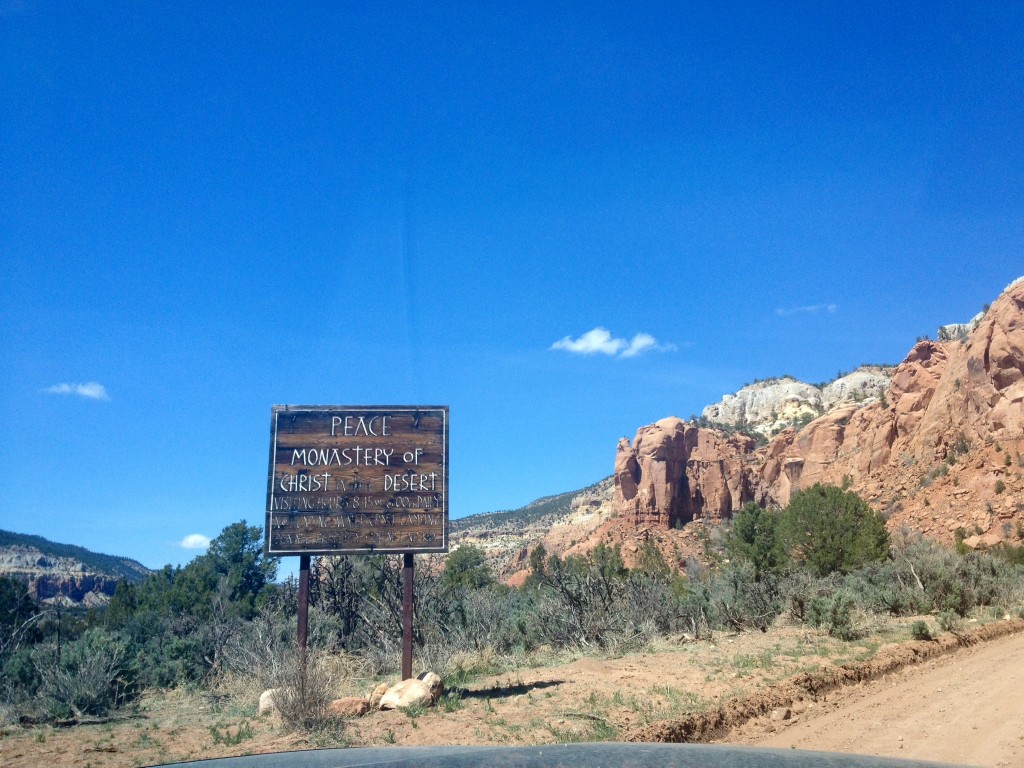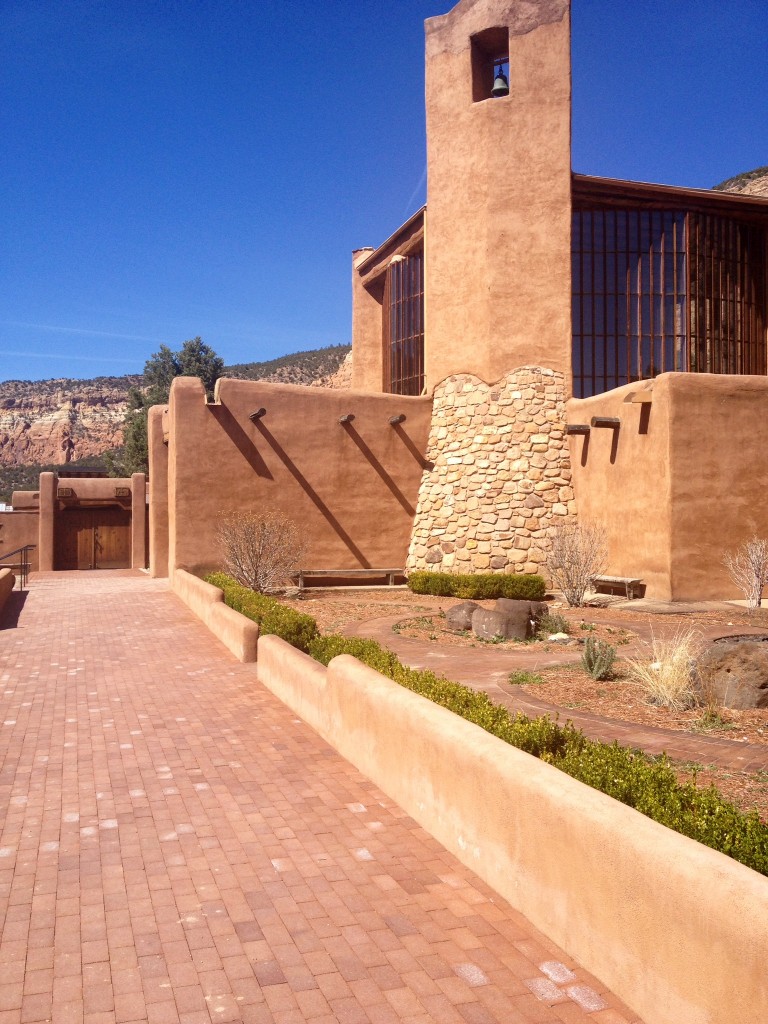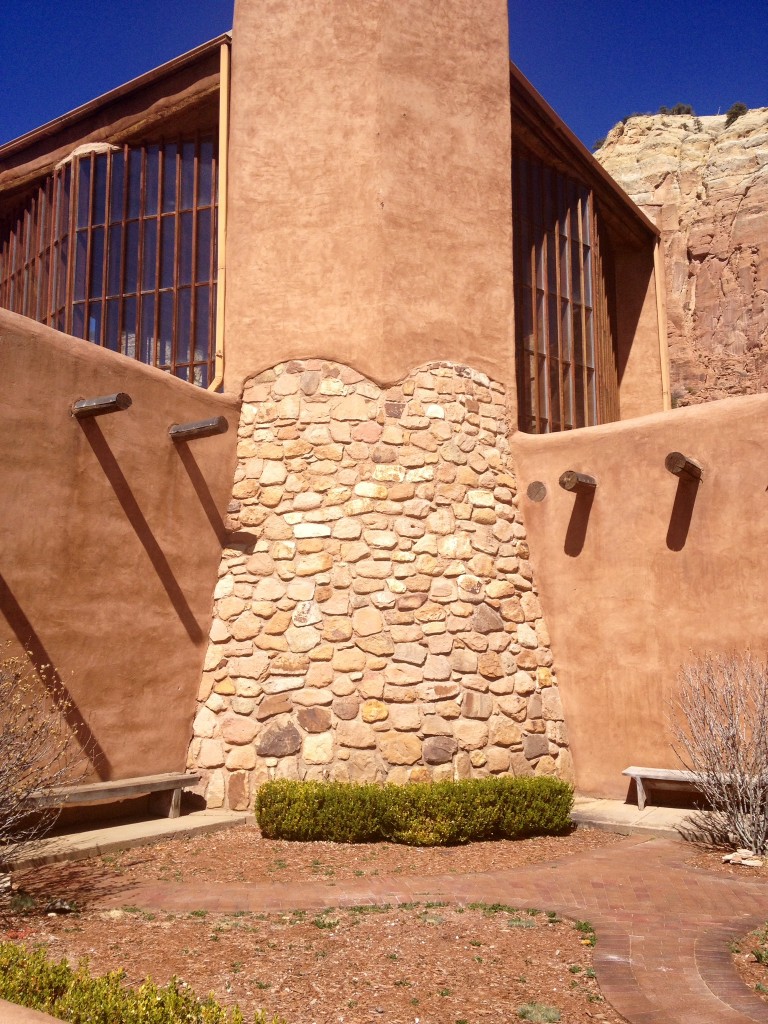 We entered the gift shop and there was only one man there, a tourist. I ran to the soaps and grabbed them all. The man inquired about the amount and I told him the story about my father. He said he too wanted one now. I realized I had them all, so I gave him one and asked if he wanted more and he laughed and said one would do. I replied, "That's what you say now…"
Next: how to pay?
There was no one there. In the corner was a basket in which you could place the correct amount for whatever you had purchased. There were many $20 dollars bills in it. Next to the basket was a small pad on which you could write your credit card information for the correct amount and put in a box so others couldn't see your information and they would bill your card later.
No cameras and no guards. Obviously, no one is driving all this way and going down a 13 mile dirt road to steal, but I was still very moved.
We did ring the telecom buzzer for someone to come in from their chambers just to make sure we were following the procedure correctly. A joyful and chatty monk named Brother Andre arrived. He was curious about the amount of soaps I was taking. I told him the story and that I was making sure the supply would last until whenever it was possible to buy again. He inquired where my father was originally from and I told him. His reply made me laugh out loud, "Really?! Very cool. I have some Facebook friends in Lahore!" And then the conversation somehow turned to South Africa. I think it happened because I was thinking out loud about getting something for a friend in South Africa and Brother Andre asked where. Brother Andre had lived in South Africa in 2008, specifically Limpopo. The serendipity of connections was extraordinary! And then he told us he was going to be late for prayer except he told us to hurry to the prayer session and we never saw him there. I am not sure what took over any of us but we agreed and we sat quietly to watch the monks chant their prayers and then disappear in their black cloaks.
The soap is handmade by a monk from Mozambique. I know my father would really appreciate this fact.
I walked for a little bit around the monastery. I thought about the recent Supreme Court decision that concluded that money is speech alongside corporations are people. I thought about the recent lunar eclipse beginning a rare tetrad. I thought about watching the eclipse despite being too sleepy and my head ringing. I thought about how powerful alignment feels. I thought about how Google and Fakebook buying and selling private information. I thought about Brother Andre and his Facebook account. A monk with a Facebook account! That thought made me think of the latest extraordinary acrylic artwork by Jamie Berry and what he wrote:
Unfettered by the self-imposed, collective isolation of a closed-feedback-loop, connection can enrich our lives and broaden our horizons in ways we never imagined as we realize there's truly no separation between us. Alternately, when we base our connection on false premises, prejudice, and alienation, it can take us over the edge of a cliff, one after another.  Each of us gets to decide which of these bonds we are creating, and whether our contributions are an invitation to expand or to explode.
I thought and thought till I had no thoughts.
Later that day a chance conversation about a dolphin painting would lead me to learn about animal medicine, which in Native American/Indian tradition refers to the healing aspects that a particular animal brings to our consciousness. A spiritual practitioner would show me my "totem" animals. What chance! So many come to Santa Fe seeking enchantment and there I was in an ordinary conversation. People should really try to connect more in the most ordinary ways possible; it's magical.
I began this Sunday by writing an appreciation of my own for Gabriel Garcia Marquez. Pages and tears. He was one of the few contemporary authors who really influenced me beyond writing. His works were an invitation to expand. Perhaps I will share those thoughts another time.
I don't know whether the world is coming or going anymore. I do know that every day is an opportunity to resurrect the truth. A light that is too bright can't identify the object on which it shines. We need a light that creates shadows as it illuminates so we know the difference. We must work with human weakness but we can't compromise the expectation of zeal.
While at the monastery's gift shop, I randomly browsed this book, among many others that were sitting on a table available for purchase. This book was an adaptation of the Rule of St. Benedict. The page I happened to open described "conversatio" as "openness to growth and change, willingness to look at oneself and to be challenged by God and others." I later researched to learn there are many shades of interpretation of this ancient Benedictine term. The one I came upon by chance makes the most sense for now.
I close the curtain on my thoughts with two lines of many which my father wrote in my birthday card,
"[…]Remember the the Greatest Power lies in a 'loud' Prayer […] Remember that every pain and suffering, every hardship, every loss is an opportunity given to us to enable us to grow."
My father is a a living example of titanium faith yet provided us sky-wide freedom to choose our own beliefs. I am grateful for that.
Maybe, it doesn't matter if the world is ending as long as we know how to enjoy a lavender soap after fighting the good fight every day.
"MYSTERIES, YES" by Mary Oliver in Evidence.
Truly, we live with mysteries too marvelous
to be understood.
How grass can be nourishing in the
mouths of the lambs.
How rivers and stones are forever
in allegiance with gravity
while we ourselves dream of rising.
How two hands touch and the bonds
will never be broken.
How people come, from delight or the
scars of damage,
to the comfort of a poem.
Let me keep my distance, always, from those
who think they have the answers.
Let me keep company always with those who say
"Look!" and laugh in astonishment,
and bow their heads.